Artisan Ice Cream for Everyone Made daily
Textures and taste like you've never tasted before
A passion for ice cream. This is why we work everyday to offer you a unique, unparalleled and unmatched product. We make our ice cream several times a day, in small quantities and in constant replenishment. This way you will always try a freshly made ice cream with the quality you are looking for.

Our ice cream is made in the same establishment and in plain view. You can see the entire process from the pasteurization of the milk of traditional ice cream to mixing and whipping the ingredients before putting them into the ice cream maker. The sauces, toppings and decorations are also homemade.
At Puro&BIO we always use natural and BIO certified ingredients (Inspection Authority: It BIO 009; Control Authority: CH00) in all of our products. That's why they are healthier.

On top of the wide variety of traditional ice cream we also have fruit ice cream and vegan ice cream. For all tastes and patrons. Additionally, with our homemade recipe, the texture and taste does not influence the final result. This way every flavour is a new experience for your mouth.
Being freshly made ice cream, it has all the usual flavour with a nuance that you can appreciate from the instant you try it. A smooth and unmatched texture which will remind you of the ice cream of yesteryear. The exceptional flavour of the raw materials used is added to the creamy touch on the palate.

At Puro&Bio we look to the future without forgetting the ice cream tradition of the past. We apply new technologies to produce quality ice cream in the very same ice cream shop and respect the period of the traditional recipes.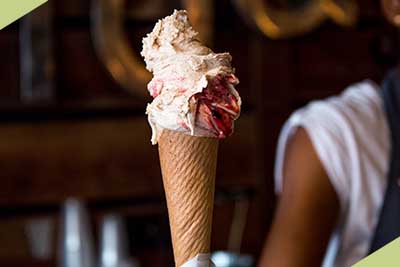 We care about the purity of the natural taste. That's why we only choose natural ingredients and raw materials of the highest quality and of organic origin. None of our ice creams have artificial additives, dyes, or preservatives because we simply do not need them.

As a response to demand, we have developed ice cream recipes for everyone: vegans using rice milk, lactose-free and sugar-free. All of them, without exception, are one hundred percent natural and, therefore, healthier.